Shannon Morgan, Girl Glass Studio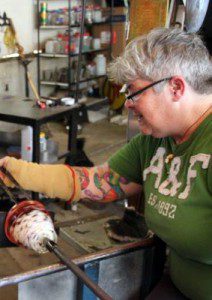 Says Shannon of her work, "Making art glass is what I love." She's primarily self taught and for the past 11 years she says she shows up almost every morning to create her glass art.
Shannon adds that she travels into her artists brain and is inspired by someone or something which she translates to her blow pipe.
"Time falls away like no other place in my daily world… color speaks to me in a language not shared by others…" Shannon's art reflects her mantra, "The world is as we dream it".
This sentiment comes shining through in Shannon's unique use of color, especially the combinations that elevate pumpkins something close to haute couture. 
Learn more about Shannon's art at:
www.zhibit.org/girlglass